There's nothing more frustrating than not having the spices you need right away when you're in the middle of cooking. Make cooking stress-free by using these clever storage ideas for organizing your spices!
Keep Spices at Arm's Reach—Handy Spice Rack
Are your cabinets filled to the brim with loads of different spices that you swear you'll be needing someday? Worry not—by having a handy three-tier spice rack for organizing spices that you need, and you won't need to rummage through a cabinet of clutter.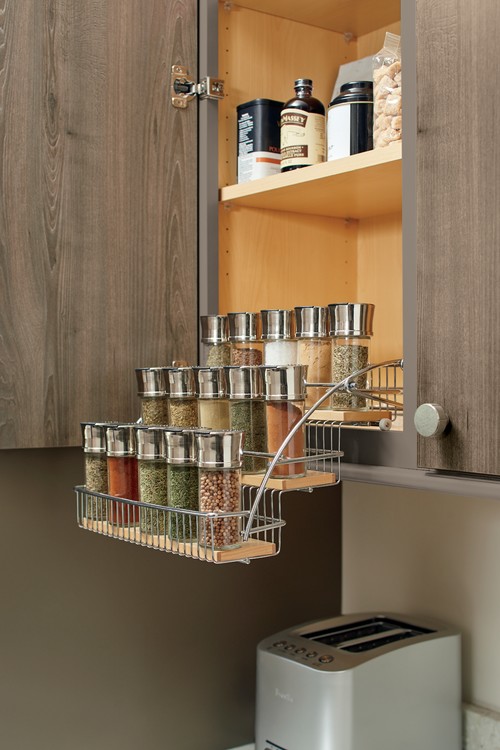 The pull-down voice rack is the perfect choice if you want something that can fit neatly inside your cabinet. You can even pull it down when you're ready to cook! Put your most-used spices on this rack, and you can kiss your clutter problem goodbye.
Add a Dash of Style to the Countertop—Crate & Barrel Acacia Spice Rack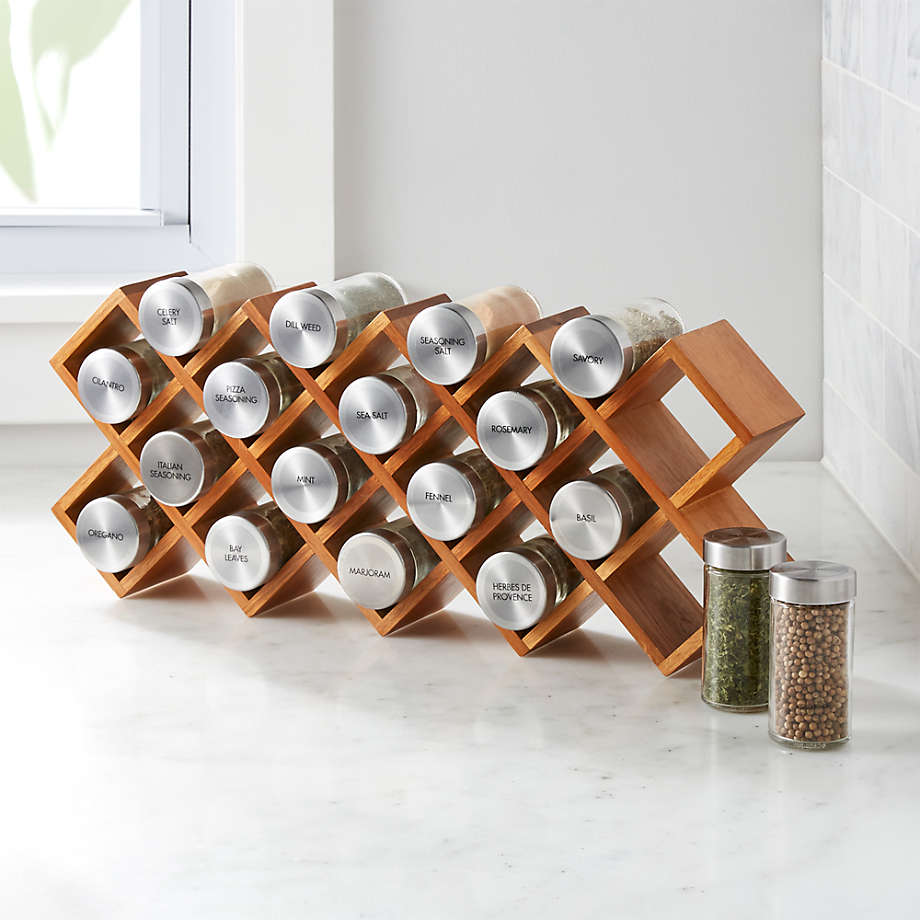 With this beautifully made acacia spice rack, you can organize spices with style! The design, almost resembling a honeycomb, is perfect for any kitchen, regardless of the aesthetic. It doesn't matter whether you have a modern-looking kitchen or a plain-looking kitchen with the basic white look; this site rack will enhance your countertop's looks.
This rack can fit eighteen containers securely. Keep your sea salt, rosemary, cumin, and other spices in this rack and have them at reach anytime!
Unleash Your Inner Chemist—Etsy Test Tube Spice Display
Take your cooking to the next level by storing your NaCl in one of these wonderfully stylish test tubes! Place this rack on an open shelf or directly beside your stovetop and make your kitchen look like a testing lab. This even works perfectly if you're working with a fantasy or RPG aesthetic for your kitchen.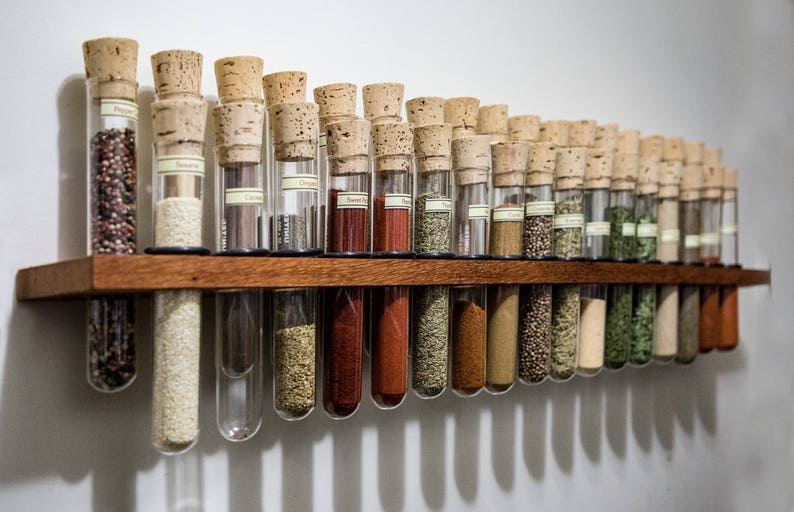 Organizing spices has never been more stylish with the Etsy test tube spice display. You can even store herbs in these vessels, saving you a lot more space in your kitchen!
Embracing Modernity—The Container Store Ceramic Jars
These clean and minimalistic ceramic jars make organizing spices a breeze. The creamy and opaque color paired with the renewable bamboo lids is a match made in heaven! Because these spice vessels are jars, you have a lot more space to work with containment-wise.
Add a label to these jars with a minimal don't, and you got yourself a great way of containing and organizing spices.
An Attractive Option—Magnetic Spice Tin Set
This is another excellent way of adding a more modern look to your kitchen. Having a magnetic spice display doesn't just give you functionality—it's also convenient and beautifully blends with your stainless steel range hood or refrigerator.
Where there is a metal base, you can place these tin containers. Get a magnetic board to pair with it, and you got yourself a beautiful modern backdrop for your kitchen.
Sneaky Space Saver—Cabinet Spice Organizer
Not everyone is blessed with a spacious kitchen that you can freely decorate with bulky spice racks. This one is perfect if you want to utilize all the space that you can in your kitchen!
This spice organizer is quite literally a hidden storage opportunity for organizing spices. This is mainly used for short and round spice canisters that you want to squeeze into your spice cabinet. There are different sizes, though, so you can choose one that can fit your needs! The rack mounts under the cabinet itself, and you can pull it out when you need it.
Gone are the days when you have to rummage around the entire kitchen to find one specific spice jar you need for a recipe. Add one of these spice racks to your arsenal and relax as every spice you need will be at your arm's reach!